"A gold mine of behind-the-scenes photos showing artists making larger-than-life sculptures—a feat possible for the first time in 1966 when Lippincott, Inc. made industrial-scale fabrication accessible to the art world." —Ralph Lauren's rugby.com

"What is priceless about this book are its photographs, in which workers are diminished in scale by the gigantesque sculptures they are busy fabricating in the dusky light of the Lippincott atelier. They dramatize an aspect of artistic production rarely discussed as such, which gives the book its art historical value." —Arthur C. Danto, philosopher and art critic, author of Beyond the Brillo Box

"This book is both an essential historical document and an enchanting souvenir album that takes us back to the quintessentially 1960s moment when America's most interesting sculptors went audaciously large-scale." —Deborah Solomon, author of American Mirror: The Life and Art of Norman Rockwell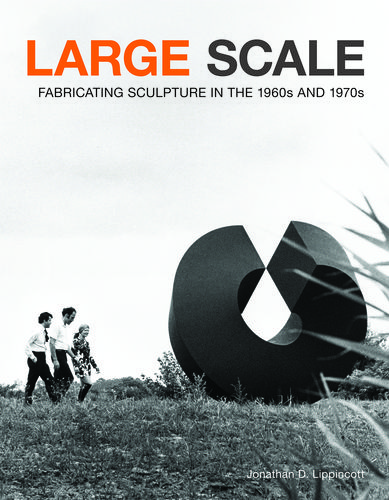 Large Scale: Fabricating Sculpture in the 1960s and 1970s presents the history of the sculptures made at Lippincott, Inc., in North Haven, CT. Founded in 1966 by Donald Lippincott and Roxanne Everett, this was the first fabricator dedicated exclusively to making large scale sculpture. Artists including Claes Oldenburg, Louise Nevelson, Barnett Newman, Ellsworth Kelly, Clement Meadmore, Robert Murray, and many others all came to Lippincott. These artists produced an incredible range of sculpture during what many have called the golden age of public art, and Large Scale is the first time this work has been presented as a whole.

The 1960s and 70s were an immensely important and prolific time for modern sculpture, and the convergence of the founding of the NEA, the 1% for art programs, and artists' interests in both showing work outdoors and exploring industrial fabrication resulted in an incredible out-pouring of new work. The book draws on the massive photo archive created by Roxanne Everett, the first vice-president of Lippincott, and shows the artists with the welders and crew during the fabrication process, sculptures on display at the Lippincott shop, and installations at galleries, museums, and public art shows.
More information is available at
www.largescalethebook.com